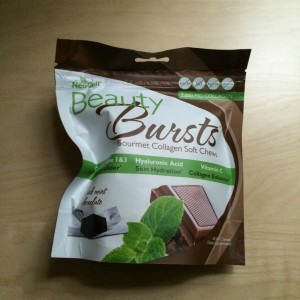 NeoCell Beauty Bursts deliver high absorption beauty nutrients in delectable, gourmet soft chews. Collagen Type 1&3 is the body's beauty protein that strengthens skin, hair and nails. Hyaluronic Acid is known as "nature's moisturizer" and hydrates the skin. Vitamin C is essential to boosting collagen in the skin. Together, these three beauty nutrients work to build beautiful skin from the inside out. Having beautiful and radiant skin has never been so easy – or so delicious.
~ Collagen Type 1 & 3 For Firm, Smooth Skin & Strong Hair & Nails
~ Hyaluronic Acid For Skin Hydration & Renewal
~ Vitamin C: Collagen Enhancer
~ All Natural Formula Bursting With Delicious Flavor
~ Gluten Free
I was so looking forward to this product. I love mint chocolate but this flavor vitamins had an odd taste. The nugget/chew was too hard and it is an acquired taste. I think may be other flavors would taste better. Although I didn't like the flavor I decided to continue with the recommended dose of four pieces a day. They come individually wrapped and are hard to chew. The package says soft chews, but they are hard and sticks to your teeth, I was expecting chew like caramel candy. I took this for about a month and I haven't seen any benefits. I think it would take longer to see any results.
The Beauty Bursts was provided by NeoCell in order to facilitate my review, I was not compensated . This review is Desafio In The City honest opinion about this product.
Letty is the other half to a multicultural family. Mother to Jonah and wife to Jonathan. Blogger at Desafio In The City a Lifestyle blog, focusing on green living, recipes, DIY, reviews and giveaways. Letty enjoys reading, dancing and crocheting.