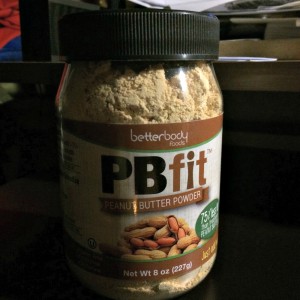 PB Fit is a delicious, low fat powdered peanut butter made from gently roasted peanuts. We extract about 85% of the oil from the peanuts and grind them to a powder. We add a pinch of sugar and a dash of salt to create a delicious powder that is chock full of flavor. Smooth peanut flavor with 75% less calories from fat than traditional peanut butter
~ 3 ingredients (peanuts, sugar, salt)
~ High protein, high fiber
~ Best tasting and smoothest on the market
~ Mix 2:1 with water to make peanut butter, or add dry into smoothies, baked goods and sauces
I seen this product at BJ's Wholesale and wanted to give it a try, but the thought of such a larger container to end up not liking it was not something I was looking forward to. I am so happy I got his sample and after trying it, I have kiss goodbye the store bought brand. The consistency and texture of the finished PBfit Peanut Butter Spread was excellent. I love eating peanut butter right out of the jar: no bread, no smoothies, no celery sticks. Just a spoon please. So as soon as it arrived I mixed up 2 tablespoons according to the instructions on the jar, and ate it right off the measuring spoon. It was smooth and creamy and looked just like regular peanut butter. I use it mostly on my smoothies and my son loves it on his PB&J bread. This stuff is awesomely good. If you love peanut butter and need to cut fat and carbs from your diet, this is a great way to accomplish it.
The Peanut Butter was provided by BetterBody Foods in order to facilitate my review, I was not compensated . This review is Desafio In The City honest opinion about this product.
Letty is the other half to a multicultural family. Mother to Jonah and wife to Jonathan. Blogger at Desafio In The City a Lifestyle blog, focusing on green living, recipes, DIY, reviews and giveaways. Letty enjoys reading, dancing and crocheting.