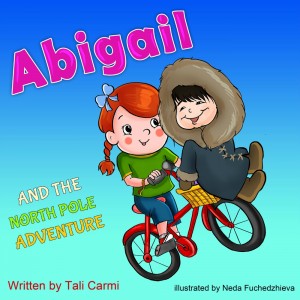 This is a wonderful book about a girl named Abigail.
Abigail found a magical bicycle in her grandparents' old house, and this bicycle takes her to the magnificent North Pole.
Who will she meet there? What will she discover?

This beginner reader's eBook will inspire your kids to be open to new cultures, and be more curious and enthusiastic about exploring various places.Your kids will enjoy full-color illustrations of Abigail and the North Pole life.

Your kids will be inspired to be:
1. Open to new people & cultures
2. More curious
3. Enthusiastic about exploring new things

Abigail and the North Pole Adventure is a sweet children's book written especially for you and your ages 2- 8 children.

With simple text and 15 colorful illustrations.

The story is suitable as a read aloud book for preschoolers or a self-read book for beginner readers.
Abigail and her magic bike takes us to the North Pole in another adventure. I think a better title for the book would have been Arctic since the North Pole is uninhabited, none the less it was a great way to introduce the little ones about life in the arctic. We meet Siku, learn about the home he lives in and about the animals of the region. The illustration are colorful and are a great visual tool to help you follow the story. An adorable little story about life in the Arctic and friendship.
I received this book from Ebookpro for this review.
Letty is the other half to a multicultural family. Mother to Jonah and wife to Jonathan. Blogger at Desafio In The City a Lifestyle blog, focusing on green living, recipes, DIY, reviews and giveaways. Letty enjoys reading, dancing and crocheting.