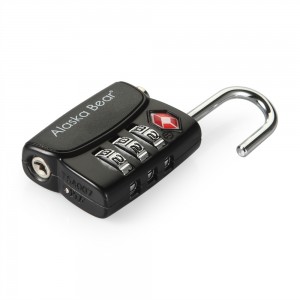 TSA Approved Luggage Combination Lock by Alaska Bear the superb zinc alloy combination lock makes the Alaska Bear TSA Lock the most secure and strong lock available. We don't trade off on security by outlining a shackle that is inclined to being effectively cut. Also, the additional solid metal shackle keeps the lock from splitting and stays tough even in intense weather and travel. By putting resources into a lock that you can depend on, you can make your trip a breeze.
~ TSA will recognize the diamond on the lock and use their special tool to open the lock for inspection.
~ Go through the inspection process quickly and easily.
~ Red Pole Open Alert: A red pole will rise above the surface of the lock to notify you that a TSA member has used his special tool to open the lock. The pole will return to its original spot when you set it to your private combination.
~ Set-Your-Own Combination
~ 3-Digit Combination
~ Heavy Duty Lock With a Sturdy Shackle: Zinc-infused die-cast metal shackle provides the maximum security and protection.
Great quality lock for your luggage. It does not feel cheap nor has a lot of play when the lock is locked. One of my favorite features is the TSA tampering detection, which notifies you when TSA went through your Luggage. The size is perfect for any size luggage you may have. If you are checking in your bag you should know it need to be lock and this product those the job. You never know when your plane might get delayed or your luggage put on another flight, giving the chance to someone to open up your bags without you even knowing. Great theft prevention.
The Lock was provided by Alaska Bear in order to facilitate my review, I was not compensated. This review is Desafio In The City honest opinion about this product.
Letty is the other half to a multicultural family. Mother to Jonah and wife to Jonathan. Blogger at Desafio In The City a Lifestyle blog, focusing on green living, recipes, DIY, reviews and giveaways. Letty enjoys reading, dancing and crocheting.