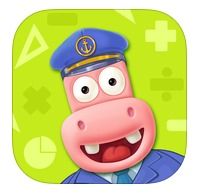 Splash Math Grades 1-5 is a great alternative  to games. It is a bit pricey, but so worth it. It covers every single concept any 1st to 5th grade student would need to know for that particular grade level. It is fun and educational so win-win for my son and myself. Love the parental report that is emailed to me weekly so I can see his progress. The Hippo is cute and entertaining. We love the encouragement it provides. Love the way the questions are asked, because it is easy for my son to understand and not just remember the technique. We use it on the weekends and specially when we travel.
Splash Math Pre-K it is a fun way to teach your soon to be kindergartener basic math. The app is well made. My niece enjoy earning virtual prizes for her jungle. I wish there were more prizes since it motives her to keep playing. Once she notice there were no more (only four) she wasn't as interested. If there is an in app purchase to get more I didn't see it. Something for the developers to think about.
This post was created in partnership with Mom Buzz Media and StudyPad Inc. All opinions expressed are my own.
$100 Amazon Gift Card Giveaway Ends 12/31
Write a short review of any Splash Math app on the iTunes App Store. If you have already reviewed Splash Math app, simply update your review.
Send an email to giveaway@splashmath.com with your iTunes nickname and the app you reviewed.
Letty is the other half to a multicultural family. Mother to Jonah and wife to Jonathan. Blogger at Desafio In The City a Lifestyle blog, focusing on green living, recipes, DIY, reviews and giveaways. Letty enjoys reading, dancing and crocheting.