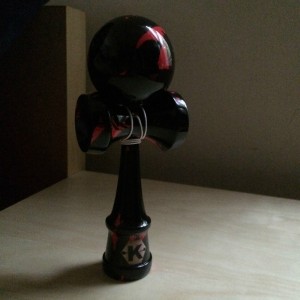 Kendama Kraze Red Samurai Stroke Kendama is a cool twist on the traditional Cup-and-Ball Game. Test Your Determination with This Traditional Japanese Wooden Toy. Did You Know the Kendama is a traditional Japanese Wooden Toy? The word 'Ken' means 'Sword' and 'tama' means 'Ball', translating to the 'Sword and the Ball'. This challenging novelty toy is the perfect gift and is all the 'Kraze' for youngsters worldwide. Competitions are popping up across the globe for this worldwide phenomenon. The kendama is comprised of 3 cups, one on the bottom of the stick, and one one each side. The 2 cups on the side are actually different sizes, making one of the cups more difficult to catch the ball with. Of course, the most difficult trick of all is to catch the ball on the spike. While it may seem like a simple children's toy, the Kendama can entertain for hours as you try to master all of its difficult trick sequences.
~ 2015 Unique exclusive designs
~ The prefect summer gift
~ Extra string included
~ Allows You to Play for Hours on End
~ Catch the Ball in All 3 Cups and the Challenging Spike
My son love this toy and anything that would keep him away from electronics is A+ on my book. It is very sleek and shiny. Very high-quality product! It is fun to play with especially when he plays is it in front of family and friends and them they try to do it and fail miserably. It comes with an extra string which is great since it looks like it may have to be replace soon. I try to play and find it fun, however watch your knuckles, that ball is hard and hurts if you miss the spike. There are YouTube video's that show the skill involved and teach how to do certain tricks. It is inexpensive and a fun way to pass the time.
The Toy was provided by Kendama Kraze in order to facilitate my review, I was not compensated. This review is Desafio In The City honest opinion about this product.
Letty is the other half to a multicultural family. Mother to Jonah and wife to Jonathan. Blogger at Desafio In The City a Lifestyle blog, focusing on green living, recipes, DIY, reviews and giveaways. Letty enjoys reading, dancing and crocheting.