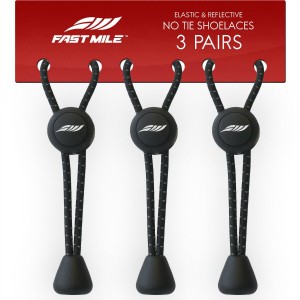 Fast Mile No Tie Shoelaces is the secret to never worrying about untied shoelaces again. No matter the activity and age, everyone finds Fast Mile No Tie Shoelaces amazingly useful. It saves time of your workout and gets kids ready for school faster. Universal and practical black color suits all shoe styles.
~ One size fits all – 47 inches length – easy to adjust with no tools required.
~ Very convenient for children, elderly and those with limited mobility.
~ Perfect time saver
~ Suitable for everyone
~ Elastic cords distribute pressure of laces evenly over your feet and are more comfortable than any regular laces.
~ Reflective cords increase your visibility and safety
I been a loafers user for years now. I haven't purchase any shoes with laces in years, unfortunately because of the weather in the northeast I have to get snow boots with laces. It has been frustrating until I got the chance to review this no tie laces. I am so happy, I don't have to limit my shoes to loafers/slip on shoes. This laces are very easy to use and a time saver. The instruction are easy to follow and you can have your shoes laces up and ready to go in no time. They are super comfortable because of the elastic material they are made off; they adjust to make a perfect fit.
The Shoes Laces were provided by Fast Mile in order to facilitate my review, I was not compensated . This review is Desafio In The City honest opinion about this product.
Letty is the other half to a multicultural family. Mother to Jonah and wife to Jonathan. Blogger at Desafio In The City a Lifestyle blog, focusing on green living, recipes, DIY, reviews and giveaways. Letty enjoys reading, dancing and crocheting.