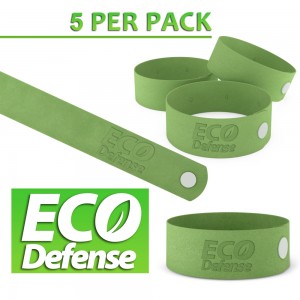 Eco Defense Mosquito Repellent Bracelets are an all natural mosquito repellent. Fast. Easy. No mess. No Spray No DEET. Just put the Eco Defense Bracelet on and you're good to enjoy the outdoors! The unique microfiber design allows a slow release of the active ingredient unlike silicone or plastic bands. Plus, the adjustable strap means it will fit everyone in your family.
~ Guaranteed to help repel mosquitoes off.
~ Is infused with ALL NATURAL mosquito repellent oils.
~ Provide long lasting protection without the dangers or typical mosquito repellents.
~ No DEET, No SPRAY, No Chemicals.
~ Natural and safe.
~ Contains 5 easily adjustable bracelets providing over 150 hours of protection!
I am one the few lucky people who gets may be one mosquito bite a year. However, my son and husband are mosquitoes magnets. I was looking forward to this product, because it the only one I have found that uses natural ingredient. It contains Citronella, Eucalyptus, Lavender, and Mint Oils, these oils are known to be natural mosquitoes repellent. These bracelets are suppose to provide long lasting protection without the dangers of most know mosquitoes repellent brands. I thought it would be ideal for our needs, especially when travelling, with the liquid restriction to board a plane, it sounded like what we were looking for. It has somewhat a bug repellent smell (Citronella), so it wasn't overpowering. To my disappointment, my husband try it out during a BBQ and needless to say he was bitten in the legs and back of the neck within 5 minutes of being outside. The protection of the bracelet only extended to his arms. Great concept but sadly it didn't work for us. We are still looking.
The Bracelets were provided from Eco Defense in order to facilitate my review, I was not compensated. This review is Desafio In The City honest opinion about this product.
Letty is the other half to a multicultural family. Mother to Jonah and wife to Jonathan. Blogger at Desafio In The City a Lifestyle blog, focusing on green living, recipes, DIY, reviews and giveaways. Letty enjoys reading, dancing and crocheting.