Culinary Teas is a small family own company that stand by the quality of their product. Their teas are test frequently and package when you order them to make sure you received the product at their freshest. The delay the aging of the tea by limiting the oxygen and light with their unique packaging. I love their 1oz sample, because like that I can have a taste before I commit to getting a larger quantity. The teas come in sizes ranging from 4 oz to 16 oz. I got introduce to loose leaf tea about 5 years and I haven't look back. It taste better, smell amazing at the blends are pleasing to the eye.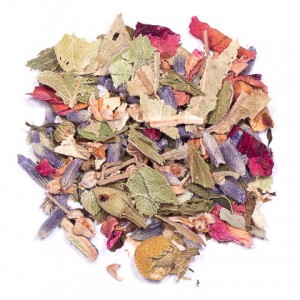 Comfort Tea
This House Blend will relax and comfort you at any moment. All the ingredients are here to restore balance within the body and create a general feeling of well-being and relaxation. It is excellent as a last cup of tea for the day to relax and bring on a restful night of sleep.
I have used lavender in essential oil form and know of its relaxing properties. Chamomile is known as a great soother. The combination of this two on this tea blend is superb to archive a restful night. There are perfectly balance and not overpowering. It is a light blend with a calming aroma. Great to have before bed.
Good Mood Tea

The best drink to feel good no matter what! It wakes you up and uplifts your mood. The very special ingredient of our house blend is organic cacao nibs, which are peeled and broken cocoa beans, the raw material of chocolate. They contain a natural mood enhancer called theobromine and create the pleasant aftertaste of dark chocolate.
I love anything with chocolate. Having a tea that has a chocolate taste is a must have in my tea collection. I drank this tea in the afternoon at work when you need that pick me up to get your to the rest of the day. The blend on this tea are black tea from Sri Lanka, floral notes from calendula and Safflower petals and the star ingredient cacao nibs. Although it has all this wonderful ingredients, it is well balanced.
Cape Cod Iced Tea
Beaches, sunshine, sand in your toes. Cape Cod Iced Tea makes us think of all of those things. Smooth, with fruity tones, this tea is perfect for summer picnics.
I seldom brew ice tea out of my loose tea leaves, but Culinary Teas have made specific ice tea blends and I have been introduce to whole new world. This blend is crisp, fruity and refreshing! I really liked the fruity notes in this tea. It has black tea, mango and papaya pieces in it. It is perfect for this summer days as it will make you feel you are at the beach.
The Sample Teas were provided by Culinary Teas in order to facilitate my review, I was not compensated. This review is Desafio In The City honest opinion about this product.
Letty is the other half to a multicultural family. Mother to Jonah and wife to Jonathan. Blogger at Desafio In The City a Lifestyle blog, focusing on green living, recipes, DIY, reviews and giveaways. Letty enjoys reading, dancing and crocheting.