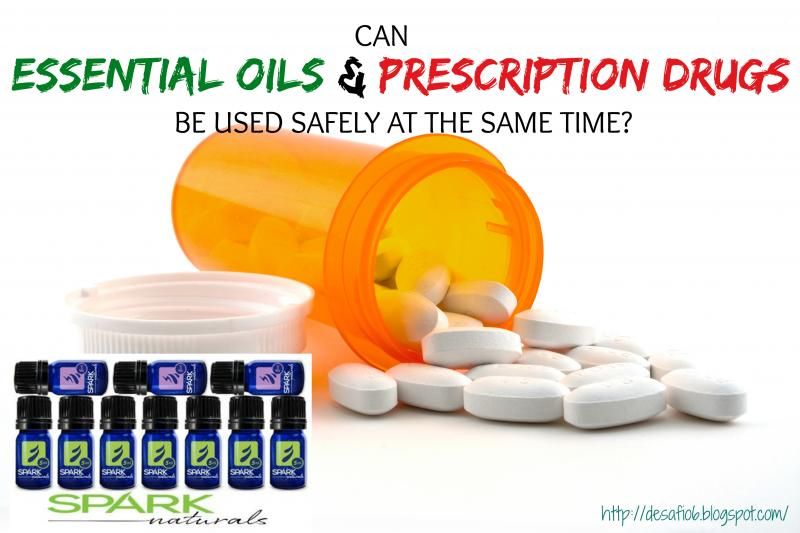 "A common question that I receive is whether or not essential oils will interfere, or have adverse reactions with, a prescription drug. In other words, if you are taking pharmaceuticals on the advice of a doctor, is it safe to simultaneously apply essential oils or not?
"I researched essential oil / drug interactions thoroughly when I was writing my Chemistry Book and was unable to find a single citation or publication that indicated any adverse reactions between drugs and essential oils anywhere. If there is a problem between oils and pharmaceuticals, it must not be a serious one since no medical reference I checked referred to the topic. No publication I have ever read by a physician who uses both oils and prescriptions drugs mentioned any such problems. I have heard verbal statements by uninformed doctors that there may be some adverse reactions between drugs and oils, but they cite no studies or evidence for their opinions.

"From my research I have not come across any problems between prescriptions and essential oils anywhere in print. This is not to say that such adverse interactions don't exist, it is just that after a thorough search I could not find any reports of such reactions."

"A review of the medical literature pertinent to this topic is found in Chapter Eleven of my Chemistry Book. Twenty-nine references were reviewed including works by medical doctors, registered nurses, and others."
~ David Stewart, PhD, DNM

Author: The Chemistry of Essential Oils Made Simple and 12 other books
Letty is the other half to a multicultural family. Mother to Jonah and wife to Jonathan. Blogger at Desafio In The City a Lifestyle blog, focusing on green living, recipes, DIY, reviews and giveaways. Letty enjoys reading, dancing and crocheting.