What to cook when you have to decorate 3 dozen cookies? Pasta!!! Jonah wanted spaghetti with red sauce (he doesn't like tomatoes), but I want to make something that was simple, fast and won't let my boys feel neglected. Since I need to have this cookies ready for Easter, I went to one of my favorite inspiration sites Pinterest and came across this deliciousness.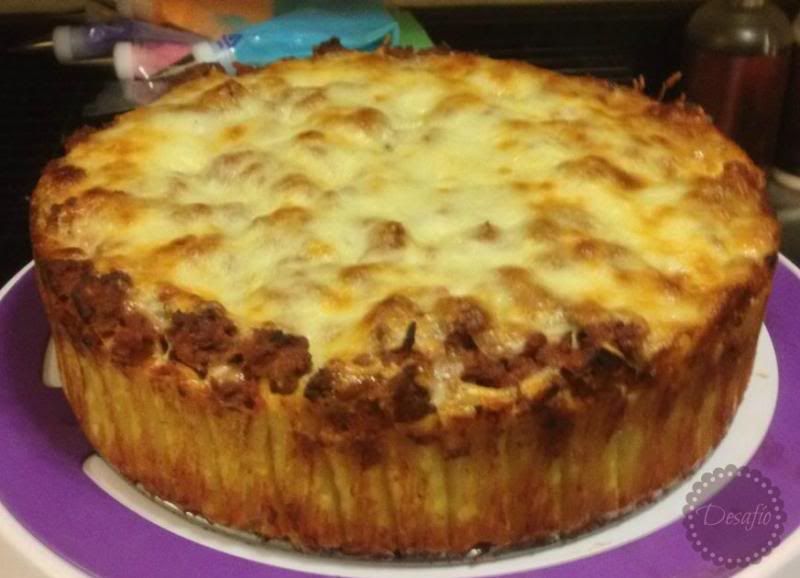 It is simple and you can make your everyday "pasta with red sauce" into something eye catching and delicious.
Rigatoni Pasta Pie
Ingredients
1 tablespoon extra-virgin olive oil
1/2 pound ground turkey
1/2 pound ground beef
3 cloves garlic, minced
1 pinch crushed red pepper flakes (optional)
1/4 teaspoon of salt
1/8 teaspoon of pepper
1 (28 ounce) crushed tomatoes
1 pound rigatoni pasta
1 cup freshly grated parmesan cheese
2 cups shredded mozzarella
1. Preheat oven to 400.
2. Put a pot of salted water and follow the directions in the box and cook the rigatoni al dente.
3. While the pasta cooks, heat the oil in large skillet over medium-high. Add the turkey & beef and cook until it's browned all over, about 5 minutes. Add the garlic, crushed red pepper, salt and pepper. Sauté another minute. Then add the crushed tomatoes and simmer on for 10 minutes or until it thickened.
4. Once the pasta is done drain and rinse with cool water. Toss with parmesan cheese. Lightly oil a 9-inch springform pan. Tightly pack the rigatoni in the pan, standing on their ends.
5. Pour the meat sauce over the pasta. Push the meat down into the holes as best you can.
6. Put the pan on a baking sheet to catch any spillage, slide into the oven for 15 minutes.
7. Remove, top with mozzarella cheese, and bake another 10 to 15 minutes, or until cheese is browned and bubbly.
8. Let it sit 15 minutes before slicing and serving!
Letty is the other half to a multicultural family. Mother to Jonah and wife to Jonathan. Blogger at Desafio In The City a Lifestyle blog, focusing on green living, recipes, DIY, reviews and giveaways. Letty enjoys reading, dancing and crocheting.