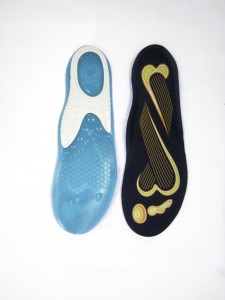 The Syono Orthotic Shoe Inserts and Gel Insoles are a set of orthotic insoles and inserts that provide cushioning and support to alleviate pain throughout your body. They absorb the shock your feet receive from everyday motion. Walking, running, and standing become easier and less painful. Highly recommended for those who stand or walk on hard surfaces all day, those who have constant or recurring foot and heel pain such as plantar fasciitis, and those who would like to get the most out of their day without accumulating the damage done to our feet by daily activities.
~ Ideal for everyday use.
~ Great for foot pain, heel pain, and plantar fasciitis.
~ Long lasting comfort. Very lightweight.
~ Provides relief to your ankles, knees and hips.
~ One size fits all. Trim to fit. Easy to use.
These do a good job, as they provide more cushion in the heel, that others do not have. They do not have as much support in the arch area as I would like. I am still feeling the effects of my plantar fasciitis. They do alleviate the pain very well, but I guess my expectations were a bit too high.
The Orthotic was provided by Syono Orthotic in order to facilitate my review, I was not compensated. This review is Desafio In The City honest opinion about this product.
Letty is the other half to a multicultural family. Mother to Jonah and wife to Jonathan. Blogger at Desafio In The City a Lifestyle blog, focusing on green living, recipes, DIY, reviews and giveaways. Letty enjoys reading, dancing and crocheting.