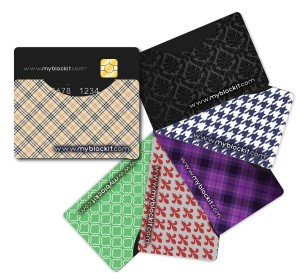 RFID Blocking Sleeves protects you from digital theft, by blocking the RFID chips embedded in your credit card.
~ SIX Different Colored Patterns for Easy Location of Specific Card
~ Genuine BLOCKIT Anti-Theft RFID Signal Blocking Protection Sleeves
~ High Quality Product, Expensive Copper/Aluminum Material
~ Protect Your Family and Friends from Digital Pick-pocketing
~ FIPS 201 Approved by the US Government as Electromagnetically Opaque Shield
I was so looking forward to this product. The idea behind it is great, but I have more than one card and I was barely able to fit one. It stylish and functional but it was a struggle to get the card in. However, the sleeve wouldn't fit in my wallet. It is made of copper & aluminum, but it looks made out of card-stock. It is flimsy and I am afraid it is not going to last. I don't even know if it would do what it suppose to do, I don't have a machine to test it out. I think you will better off with one of those RFID wallets. Try this product at your own risk.
The Blockit Sleeve was provided by BLOCKIT in order to facilitate my review, I was not compensated . This review is Desafio In The City honest opinion about this product.
Letty is the other half to a multicultural family. Mother to Jonah and wife to Jonathan. Blogger at Desafio In The City a Lifestyle blog, focusing on green living, recipes, DIY, reviews and giveaways. Letty enjoys reading, dancing and crocheting.