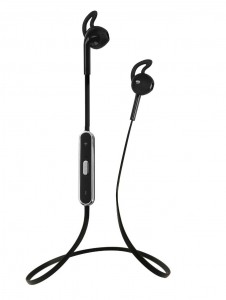 The Francois et Mimi Bluetooth Sports Headphones have been engineered for the active consumer. Comfortable in-ear hooks allow for a stabilized fit, without the awkwardness and bulkiness of over-the-ear alternatives. Great for listening to music while running or exercising, and even as a hands-free communication device. Enjoy clear, crisp sound every time.
~ Built for Style and Elegance
~ Utilizes the Latest and Greatest Bluetooth CSR 4.0 Technology
~ Great for Exercise and Runing
~ Will not fall out and have an operating distance of 10m
~ Works great with almost all tablets and smartphones that utilize Bluetooth technology
~ Simple user-friendly interface with volume and channel controls directly on the unit
~ Retail package includes manual, charger cable, earphones and removable earhooks
The sound quality is great. I have set my phone down in the room while getting dressed and haven't lost connection. Syncs fast when turned on and paired. Battery is easy to charge. I wanted to use this earphones mainly for running. Once my body starts sweating the ear pieces are nearly impossible to keep in my ear, they slide out. The cord is long enough that it bounces around on my neck and the power/volume button is heavy enough that while bouncing around on my neck the weight helps to pull the ear bud out of my ear. The sound is great, I like using them around the house and doing yard work, running seems a bit too awkward in using them, a bit disappointing for this use.
The Headphones were provided by Francois et Mimi in order to facilitate my review, I was not compensated. This review is Desafio In The City honest opinion about this product.
Letty is the other half to a multicultural family. Mother to Jonah and wife to Jonathan. Blogger at Desafio In The City a Lifestyle blog, focusing on green living, recipes, DIY, reviews and giveaways. Letty enjoys reading, dancing and crocheting.