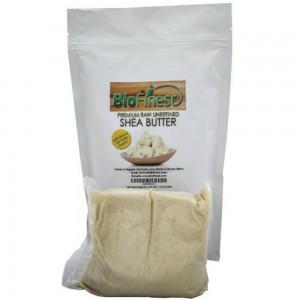 BioFinest Organic Shea Butter is the same ingredient popularly used in so many skin and hair products – except this is 100% Pure and Freshest Shea Butter. BioFinest use only the highest quality Shea nuts in their Shea Butter.
BioFinest's Shea Butter Benefits:
~ Rich in Vitamins A, E, F, Antioxidants and Essential Fatty Acids
~ Help Reduce the appearance of wrinkles and fine lines
~ Quickly penetrates the skin to immediately protect and infuse with rich LASTING moisture
~ Deeply Nourishes and Hydrates Dry Scalp or Damaged Hair
~ 100% Natural, Unrefined, Paraben Free, No added Fragrance or Color
~ Helps with skin conditions
~ Suitable for children and pregnant women.
~ Suitable to combine with other natural ingredients
I have very sensitive skin, so finding natural product that won't irritate or cause a rash is very hard. BioFinest Shea Butter can be use just like it is. It had a very subtle almost nutty smell. It's kind of hard… like stiff play-dough. The scent is very mild but I wanted it scented and in a container so I melted it in a pot on the stove, added almond oil, stirred and poured it into a glass jar. It set up in a few hours and I use it as a lotion and hand cream. I LOVE it. I am considering using it for a deep conditioner for my hair but have not tried this yet.
The Shea Butter was provided by BioFinest in order to facilitate my review, I was not compensated. This review is Desafio In The City honest opinion about this product.
Letty is the other half to a multicultural family. Mother to Jonah and wife to Jonathan. Blogger at Desafio In The City a Lifestyle blog, focusing on green living, recipes, DIY, reviews and giveaways. Letty enjoys reading, dancing and crocheting.