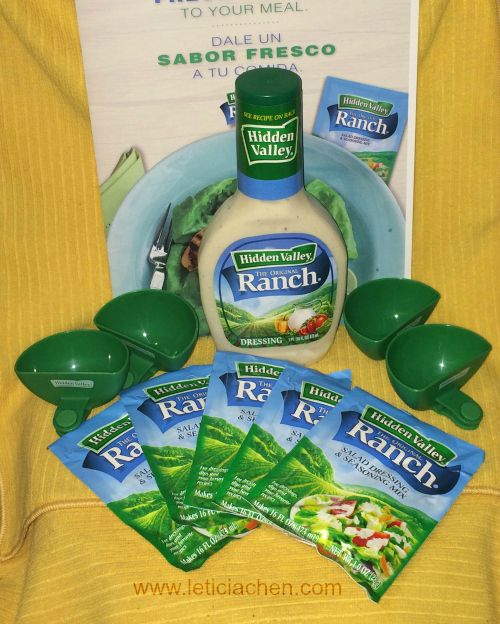 My mother came over today to help me prepared our Hidden Valley Ranch Feast! She was very curious as to how I got the samples. I told her that thanks to Crowdtap I was lucky enough to be selected to host this party. She help me make her famous dip and it was gone before we were able to take a picture, but like always thanks to Hidden Valley Ranch it was a scrumptious.
I have always use Ranch dressing with my raw vegetables on in salads, but I have never cooked with it. I was really excited to give it a try and share it with friends and family.
Here is what I got in the Kit:
~ 1 Hidden Valley Team Ranch T-Shirt
~ 1 Bottle of Hidden Valley Original Ranch Dressing
~ 3 Packet of Hidden Valley Original Ranch Salad Dressing & Seasoning Mix
~ 1 Party Insert with activities, recipes, tips and coupons.


For My Guest
~ 10 Valley Original Ranch Salad Dressing & Seasoning Mix
~ 10 Guest Inserts with tips & coupon
I prepared a few dishes for the evening activities, here are a few of the things I prepared:

INGREDIENTS
¼ cup Hidden Valley® Original Ranch® Dressing
1 cup Hidden Valley® Original Ranch® Dressing
1½ pounds boneless, skinless chicken breast
2½ cups panko breadcrumbs
2½ tablespoons honey mustard
1 teaspoon brown sugar
DIRECTIONS
Dipping Sauce
In a small bowl, combine ¼ cup Hidden Valley® Original Ranch® Dressing with the mustard and sugar until well blended.
Chicken
Preheat oven to 400˚F.
Grease a baking sheet.
Slice the chicken breasts into two-inch long pieces.
Pour 1 cup of Hidden Valley® Original Ranch® Dressing on to a plate or into a plastic bag.
Evenly coat chicken in dressing, then dredge chicken in bread crumbs and arrange on greased baking sheet. Cook for 15–20 minutes or until golden.
My guest went straight for the dip, they love my mother's deep and it was gone in a blink of and eye. I preapred a few challenges and we got started while the other dishes where cooking. Most of them have never try cooking with Hidden Valley Ranch and were amaze of all the things you can make with it. The memories we create with the family are moments we treasure forever! For additional crowd-pleasing recipes, check out HiddenValley.com.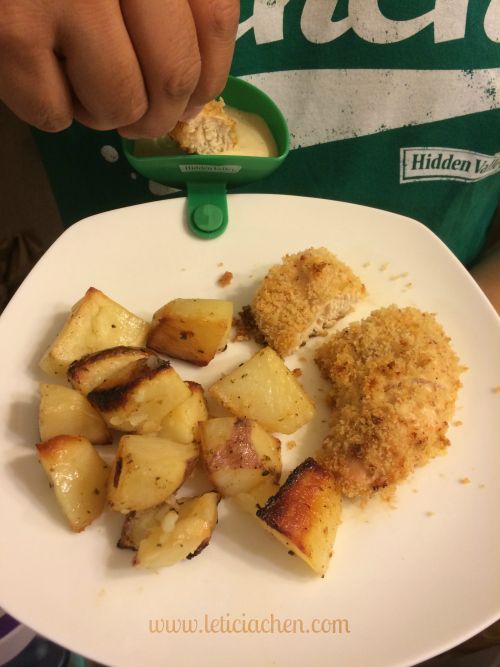 Disclosure: I received the Hidden Valley sample products mentioned above thought Crowdtap. All statements made are my own and were not influenced in any way. No monetary compensation was received.
Letty is the other half to a multicultural family. Mother to Jonah and wife to Jonathan. Blogger at Desafio In The City a Lifestyle blog, focusing on green living, recipes, DIY, reviews and giveaways. Letty enjoys reading, dancing and crocheting.